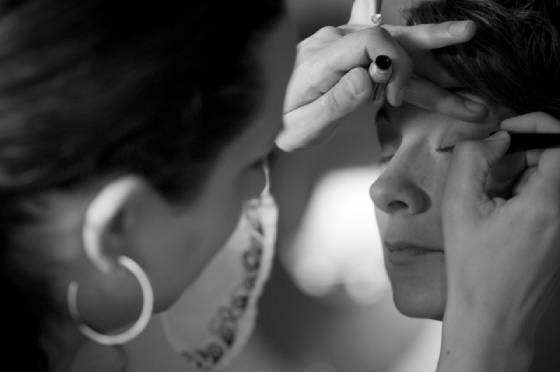 NAME: Dana Armstrong
YEARS OF PROFESSIONAL EXPERIENCE: 15

AREAS OF EXPERTISE: Weddings/Special Events, Headshots/Photography, Film/Television, Special Effects
FAMILY: Husband Travis and Boston Terrier Goblin
HOBBIES: Drawing, Painting, Sculpting, Cake Decorating, Knitting, Sewing, being an all-around crafting nut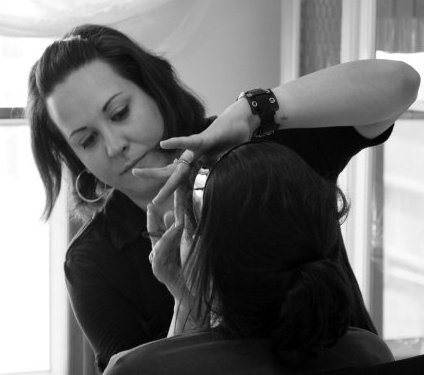 MY STORY:

My journey into the world of makeup began as a Theatre major at Illinois State University. Although I was studying acting at the time, my interest was sparked by a stage makeup course. I was instantly hooked, and started applying makeup to anyone and everyone who'd let me. By the time I graduated, I was designing special makeup for mainstage and experimental theatre projects for the department. I later studied special effects techniques at the Joe Blasco Makeup Academy in Hollywood, living and working in Los Angeles for the first part of my career.

What did I learn during my time in L.A.? Well, first and foremost I learned that I am a Chicago girl to the very core! But I also learned a lot about makeup and how it is filmed and photographed. Once I moved back to Chicago and began branching out by doing makeup for weddings and special events, I found that looking great for photos was the number one concern that I heard from my clients. Drawing upon my past experience and training, I was able to provide a look that is extremely light and wearable, yet durable and consistent for the camera.

Today, I love doing wedding makeup most of all, and I am so proud of the fact that I've been present at so many wedding mornings, and have gotten to share that once-in-a-lifetime moment with countless amazing ladies. I feel like I make new friends every time.